Why is a PHASE II Important to Commercial Property Owners?
Avant Environmental and Edward Baltzer understand Phase II site assessments.
WHAT IS A PHASE II?
If environmental contamination is discovered or suspected, a Phase II site assessment is often performed to determine the extent of contamination across the property.  A Phase II environmental site assessment, also called a Phase 2 ESA, a second-level assessment, or a Phase 2 investigation, is an environmental study of real property in which soil, soil vapor, groundwater, air, building materials, products, wastes, or other materials are measured, sampled, or otherwise characterized.  This can include soil borings, monitoring well installations, piezometers, soil sampling, excavations including exploratory pits or trenches, soil vapor monitoring, indoor air quality measurements, asbestos inspections, geophysical surveys, or other intrusive or non-intrusive exploratory techniques.  General approaches to performing Phase Two assessments are defined by ASTM International in their standard ASTM E-1903-11, Standard Practice for Environmental Site Assessments: Phase II Environmental Site Assessment Process.  Since every property is different and since there are so many types of land uses, every Phase II investigation is unique.     This is why it is very important that you choose a company that has a full understanding of all assessment techniques relevant to the contamination on your property.  Too much investigation work wastes time and money, while too little investigation work can result in an over- or under-estimate of the volume of contaminated materials present. Using an ideal approach can swiftly give you detailed information on just exactly what your particular contamination issues are, which can facilitate a rapid remedial design.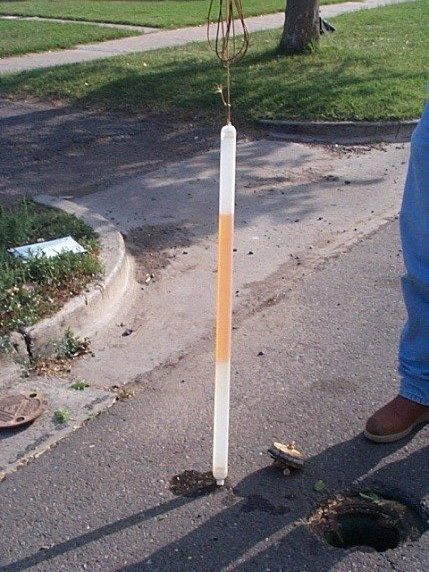 Photo showing gasoline (light, non-aqueous phase liquid or LNAPL) floating on water in a groundwater sample obtained from a monitoring well.  Do you have gasoline floating on the water table beneath your property?
"This is why it is very important that you choose a company that has a full understanding of all assessment techniques relevant to the contamination on your property.  Too much investigation work wastes time and money, while too little investigation work can result in an over- or under-estimate of the volume of contaminated materials present."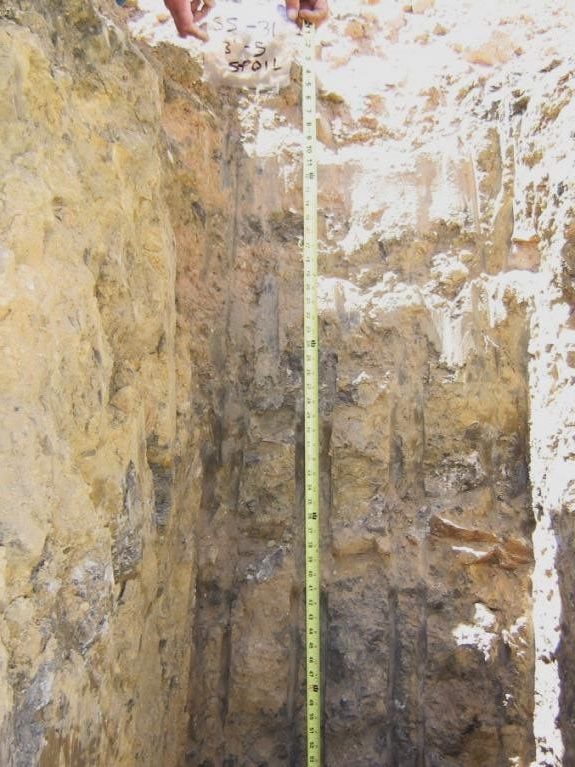 Photo showing exploratory pit used to characterize soil and potential contamination at a property.
I met Edward Baltzer, a fellow CHMM, during the 8-hour Hazardous Materials Management CHMM/CHMP Annual Refresher Course that I recently taught in the Denver Area. During the class, I became very impressed with the depth & breadth of his knowledge with regard to applying practical solutions to difficult hazardous materials management problems. Good news that the sponsors for the course (University of Colorado at Denver & Rocky Mountain CHMM Chapter) have already invited me back to teach this annual refresher course. The best news is that I am going to invite Edward Baltzer CPG, CHMM to help me teach next year's class!
During investigation work, worker health and safety must be carefully protected in accordance with OSHA regulations and common sense.  Any site that could be considered a CERCLA ("Superfund") site or a RCRA enforcement action facility, or one in which hazardous materials can or do present an immediate health and safety risk, no investigation work can begin until all site personnel are trained as described in OSHA regulations found at 29 CFR1910.120, otherwise known as "OSHA 40" training, or hazardous waste operations (HAZWOPER) training.  Personnel must have had 40 hours of training including classroom time, hands-on training with personal protection equipment (PPE), and specific topics.  This training must be refreshed every year with an 8-hour training relevant to the work being performed by the employees.  Hazardous communications (HAZCOM) protocols for the specific work to be performed must be prepared by a certified industrial hygienist (CIH) or other certified safety professional or industrial hygienist prior to work, and all on-site staff must be briefed on the contents of the site-specific health and safety plan (HASP) as described in 29 CFR 1910.120.  
Photograph of workers wearing personal protective equipment (PPE) including Tyvec suits, neoprene gloves, air purifying respirators, and boots to protect themselves from airborne asbestos fibers during an abatement of asbestos.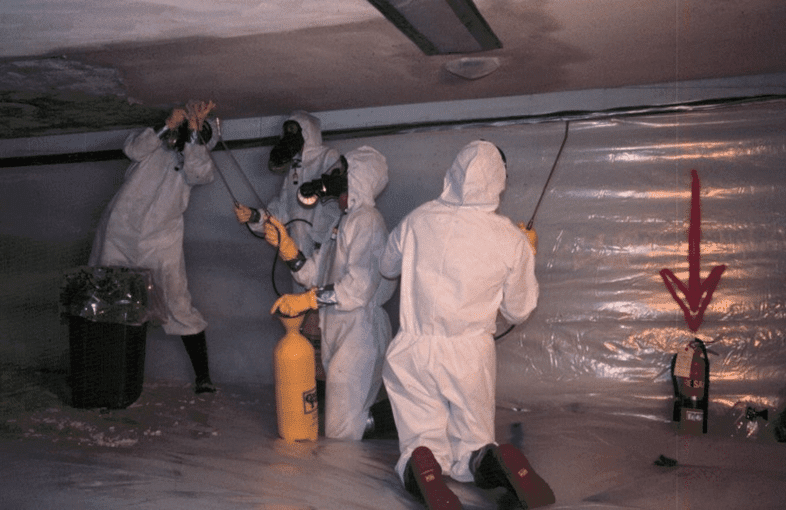 Avant Environmental specializes in identifying the target contaminants and determining sampling locations, sampling methods, decontamination, worker protection, and proper laboratory analyses.  The investigation report is an assessment that provides a clear picture of contamination without excessive sampling and is legally defensible.  Avant Environmental personnel has used a variety of drilling, excavating, coring, air and vapor sampling, water sampling, well installations, magnetometers, and ground-penetrating radar techniques to determine contamination extent.  As stated above, it is extremely important that the precise character of the contamination on your property is fully understood and presented in a format that remediation contractors, regulators, lenders, operators, tenants, and other relevant parties can easily understand in order to ensure proper land use.  We have been involved in a wide variety of remediation programs where contaminants such as lead, arsenic, cadmium, chromium, mercury, asbestos, and polychlorinated biphenyls (PCBs)  and petroleum including gasoline, diesel fuel, jet fuel, naphtha, and waste oil have been remediated from soil, soil vapor, vadose zones, groundwater, building materials, and indoor air.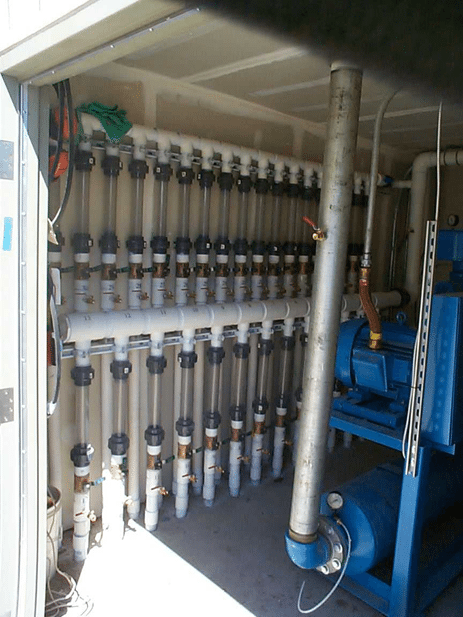 Photo of a vacuum extraction/air sparge remediation system installation used to remove gasoline contamination from a Grand Junction city property.  This particular system was in place for about six years, after which the soil and groundwater were sufficiently cleaned to allow nearby development without the risk of soil vapor contaminating indoor air. It removed soil vapor, including benzene, toluene, ethylbenzene, and xylenes, and injected air into the groundwater to oxygenate the aquifer and enhance biodegradation of petroleum contamination.
Ed's understanding of the various industries present in Western Colorado and the Central Rockies is unparalleled. He is active within local and professional communities. Ed strives to bring clients beyond environmental compliance and into programs fostering excellent environmental stewardship.
Photograph of the construction of a repository cell to hold mill tailings at a historic gold mill near the ghost town of Independence, Colorado on Independence Pass.  The Farwell gold mill, visible in the background, used mercury on copper plates to remove gold from the ore and discharged the spent mill tailings into the Roaring Fork River headwaters.  These tailings were removed from the river and entombed into the repository to isolate them, protecting human health and the environment.  This project resulted in a land swap that protected formerly private property within the Collegiate Peaks Wilderness area of the White River National Forest, preserving this area for all to enjoy without fear of future development.  Work was recognized by the USFS chief for playing a vital role in "the best example of a land exchange in the nation", 2005. The repository cell has since completely regrown with native vegetation including wildflowers and is visible at the end of a short walk from Colorado State Highway 82.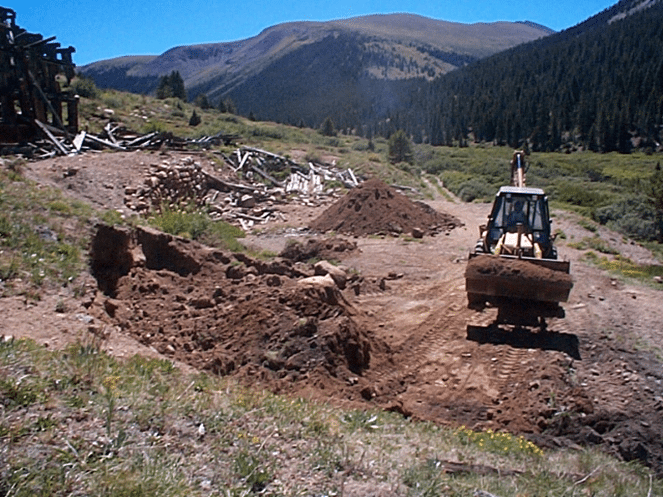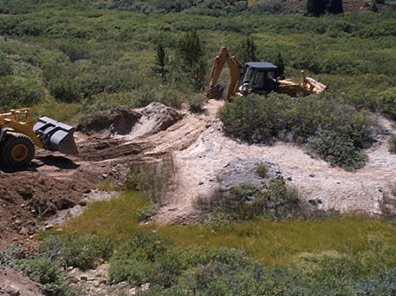 View of the mill tailings being removed from the Roaring Fork River drainage August 2002, during an extended drought, allowing ready access to the mostly dry riverbed.  The area was reclaimed and planted with native riparian species and today is nearly indistinguishable from the surrounding undisturbed lands.  All work was coordinated through the
Aspen Valley Land Trust
, an organization dedicated to preserving open spaces in Colorado.
Farwell stamp mill, used in the 1880s to mill gold ore, as it appears today.  The area where mill tailings were removed is visible in the lower left of the photograph in the bottom of the drainage.  Note ponding of river in the area.  The mill tailings repository cell is just downhill from the mill ruins.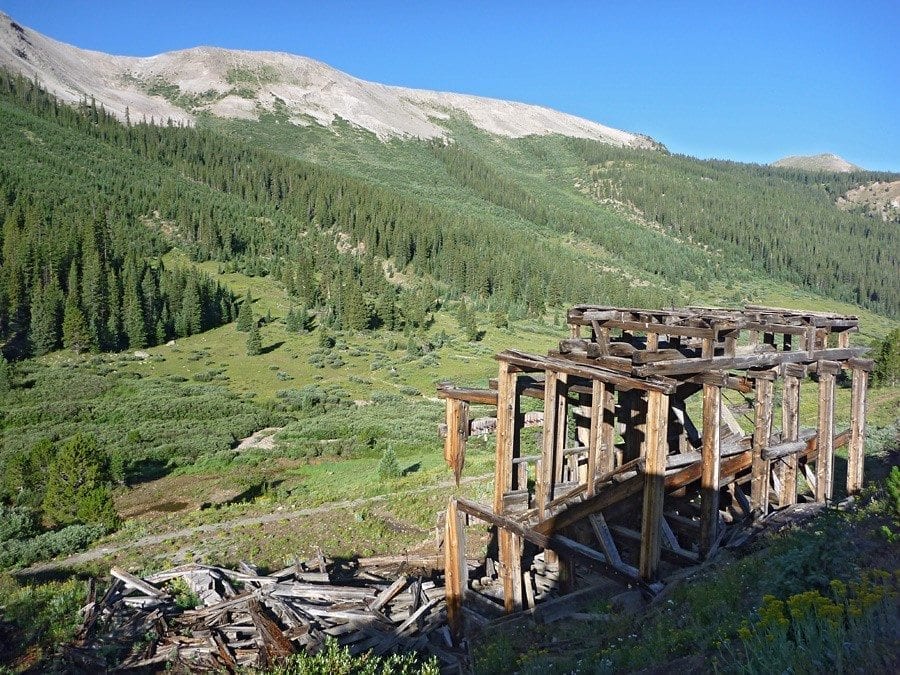 More Information from Avant Environmental:
Under CERCLA, you or your businesses can be held in strict liability for cleaning up hazardous substances at properties that are or were owned and/or operated by you. The Federal Comprehensive Environmental Response, Compensation, and Liability Act (CERCLA) also...